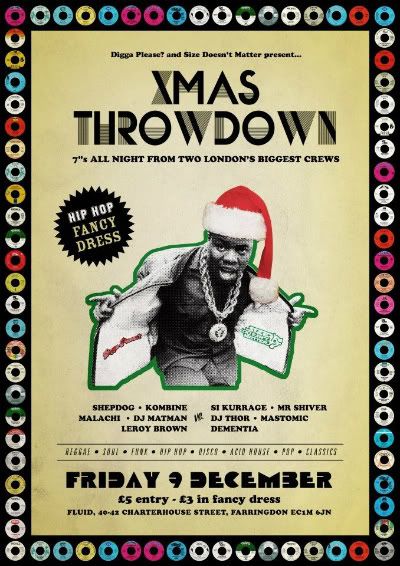 Digga Please? and Size Doesn't Matter present…
XMAS THROWDOWN
7″s all night long
2 of London's finest 45s-only crews take it uptown for a battle of EAST vs WEST on the turntables. The beef has been simmering for years, with both crews claiming to be "London's Best 7″ Night", so it's time to take it to the streets – who will take the crown??
with DJs…
SHEPDOG
KOMBINE
MATMAN
MALACHI
LEEROY
vs.
SI KURRAGE
MR SHIVER
DJ THOR
MASTOMIC
DEMENTIA
going head-to-head with 7″s ALL NIGHT LONG!
reggae / soul / funk / hip hop / disco / acid house / pop
and don't forget: HIP HOP FANCY DRESS!
Dust off your Kangols, Sergio Tacchinis, Colorados, Gazelles, Bubblegooses and Cazals, cos we're takign it back to the block party. Rock a chain, tip that cap to the side, but most of all MAKE IT FRESH
FRIDAY 9th DECEMBER
£5 entry – £3 in fancy dress
Fluid, 40-42 Charterhouse Street, Farringdon EC1M 6JN